Benjamin Gregg
---
Associate Professor

—

Ph.D.

,

Politics, Princeton University; Ph.D., Philosophy, Freie Universitaet Berlin
Associate Professor of Government
Contact
E-mail:

bgregg@austin.utexas.edu

Phone:

512-232-7274

Office:

MEZ 3.138

Office Hours:

by appointment only

Campus Mail Code:

A1800
Interests
---
Political, social, legal, and sociological theory of complex modern societies
Biography
---
Research Interests
Social integration in complex modern societies; problems and prospects of contemporary forms of justice, including human rights; restorative justice; coping with value pluralism within democratic societies but also in non-liberal polities around the world; deploying contemporary sociological theory to solve problems in political philosophy; the social, legal, and political consequences of the human species taking control of its genome
Current Book-Length Project Under Review at Cambridge University Press
Second Nature: The Political, Legal, and Moral Consequences of the Human Species Taking Control of its Genome
Research supported by three-year grant for the Humanities Research Award, College of Liberal Arts, UT-Austin, 2014, 2015, 2016
Selected Publications
The Human Rights State, University of Pennsylvania Press, forthcoming 2016
"Advancing Human Rights in Post-Authoritarian Communities through Education," Journal of Human Rights Practice 7 (2015):199-222
"Human Rights as Metaphor for Political Community Beyond the Nation State," Critical Sociology (early on-line access: doi:10.1177/0896920515582092; print version forthcoming, summer 2015)
"Die Bedeutung des Internets für die Bildung einer kritischen Öffentlichkeit" [Problems and Prospects for a Critical Public Sphere On-Line], in Kurt Imhof, Frank Welz, Christian Fleck and Georg Vobruba, eds. Neuer Strukturwandel der Öffentlichkeit. Wiesbaden, Germany: Springer VS Verlag, forthcoming 2015
"Im Strukturwandel der Weltöffentlichkeit: Auf dem Wege zu einem Pluralismus?" [A Pluralistic Conception of Human Rights for a Global Public Sphere?], in in Kurt Imhof, Frank Welz, Christian Fleck and Georg Vobruba, eds. Neuer Strukturwandel der Öffentlichkeit. Wiesbaden, Germany: Springer VS Verlag, forthcoming 2015
Paperback edition of Human Rights as Social Construction (Cambridge University Press), published July 2013 (hardcopy twice re-printed, 2012)
"Teaching Human Rights in the College Classroom as a Cognitive Style," in J. Shefner, H. Dahms, R. Jones, and A. Jalata, eds., Social Justice and the University, Basingstoke, United Kingdom: Palgrave (2014): 253-279
"Might the Noble Savage have Joined the Earliest Cults of Rousseau?" in Jesko Reiling and Daniel Tröhler, eds., Entre hétérogénéité et imagination. Pratiques de la réception de Jean-Jacques Rousseau. Genève: Éditions Slatkine (in the series Travaux sur la Suisse des Lumières (2013): 345-364
"Genetic Enhancement: A New Dialectic of Enlightenment?" in Perspektiven der Aufklärung: Zwischen Mythos und Realität, ed. Dietmar Wetzel. Paderborn, Germany: Verlag Wilhelm Fink (2012): 133-146
"Comparative Perspectives on Social Integration in Pluralistic Societies: Thick Norms versus Thin," Comparative Sociology 11 (2012):629-648
"Politics Disembodied and Deterritorialized: The Internet as Human Rights Resource" in H. Dahms and L. Hazelrigg, eds., Theorizing Modern Society as a Dynamic Process (in Current Perspectives in Social Theory, vol. 30). Bingley, UK: Emerald (2012): 209–233
Human-Rights as Social Construction. Cambridge University Press, 2012
(+) first printing sold out within seven months of publication; now in its second printing; ranks among CUP's ten bestsellers in political theory (other authors on the list include Bernard Manin, Theda Skocpol, Jane Mansbridge, Mark Bevir, and Cass Sunstein): http://www.cambridge.org/us/knowledge/bestsellers/bysubject/item2267667/?site_locale=en_US
(+) interviewed on PBS station KLRU regarding this book, August 2012
(+) paperback edition, May 2013
Joint review of Human Rights and Memory by Daniel Levy and Natan Sznaider (Penn State University Press, 2010) and of Humanitarianism and Modern Culture by Keith Tester (Penn State University Press, 2010): Perspectives on Politics 10 (2) (June 2012): 456-458
"Individuals as Authors of Human Rights: Not only Addressees," Theory and Society 39 (2010) 631-661
"Deploying Cognitive Sociology to Advance Human Rights," Comparative Sociology 9 (2010) 279-307
"Anti-Imperialism: Generating Universal Human Rights Out of Local Norms," Ratio Juris 23 (2010) 289-310
"Enlightened Localism in Comparative Perspective," Comparative Sociology 9(2010) 563-593
"Familiendämmerung in Amerika?" in S. Caspar und C. Gehrke, ed. Familien-Bande. Tübingen: Konkursbuch Verlag (2009) 321-329
"Translating Human Rights into Muslim Vernaculars," Comparative Sociology 7 (2008): 415–433
Review: Nudge: Improving Decisions about Health, Wealth, and Happiness, by Richard Thaler and Cass Sunstein (Yale University Press, 2008): Law and Politics Book Review 18 (2008) 452-455
Review: In Defense of Human Rights: A Non-Religious Grounding in a Pluralistic World, by Ari Kohen (Routledge, 2007): Perspectives on Politics 6 (2008) 373-374
"In Lieu of Writing a Life: Twenty-Six Views," in R. Louis, ed., Orange Britannia. Austin: University of Texas Press (2006) 624-635
Review: Regulating Aversion: Tolerance in the Age of Identity and Empire: by Wendy Brown (Princeton University Press, 2006): Law and Politics Book Review 17 (2007) 318-325
Review: Rousseau and Law by Thom Brooks, ed. Law and Politics Book Review 16 (2006) 372-383 (with David Williams)
Review: Legality and Legitimacy by Carl Schmitt (Duke University Press, 2005), Law and Politics Book Review 14 (2005) 619-623
Thick Moralities, Thin Politics: Social Integration across Communities of Belief (Duke University Press, 2003)
Coping In Politics with Indeterminate Norms: A Theory of Enlightened Localism (SUNY Press, simultaneously in two series: Political Theory: Contemporary Issues, edited by Philip Green, and Radical Social and Political Theory, edited by Roger Gottlieb, 2003)
"Proceduralism Reconceived: Political Conflict Resolution under Conditions of Moral Pluralism," Theory and Society 31 (2002) 741-776
"The Law and Courts of Enlightened Localism," Polity 35 (2002) 283-309
"Using Legal Rules in an Indeterminate World: Overcoming the Limitations of Jurisprudence," Political Theory 27 (1999) 389-410
"Adjudicating Among Competing Systems of Belief," International Review of Sociology 9 (1999) 7-17
"Jurisprudence in an Indeterminate World: Pragmatist not Postmodern," Ratio Juris 11 (1998) 382-398
Review: "The Normative Poverty of Legal Formalism," review essay on Between the Norm and the Exception. The Frankfurt School and the Rule of Law by William Scheuerman, Political Theory 26 (1998) 237-244
Translation: Portions of Herbert Marcuse, Technology, War and Fascism (Vol. 1 of the Collected Papers of Herbert Marcuse), edited by Douglas Kellner (Routledge, 1998)
Review: "Democracy in Normatively Fragmented Societies," review essay on Jürgen Habermas, Between Facts and Norms. Review of Politics 59 (1997) 927-930
Review: "How to Look for Autonomous Law, in China or Elsewhere," review essay on China's Legal Awakening. Legal Theory and Criminal Justice in Deng's Era by Carlos Wing-hung Lo, in Review of Central and East European Law 23 (1997) 165-172
"Law in China: The Tug of Tradition, the Push of Capitalism," Review of Central and East European Law 21 (1995) 65-86
"Possibility of Social Critique in an Indeterminate World," in Theory and Society 23 (1994) 327-366; Japanese translation in Hokkudai Hogaku Ronshu 50 (1999), no. 3:235-256 and no. 4:335-365
"Regulating Commercial Speech: A Question Political Not Legal," State Constitutional Commentaries and Notes 5 (1994) 18-29
"Puragumattiku na hogaku no kanosei" [Possibility of a Pragmatic Jurisprudence], Chiba Journal of Law and Politics 8 (3) (Jan. 1994) 97-119 and 8 (4) (Mar. 1994) 59-109
Review: "The Failed Quest for a Principled Jurisprudence," review essay on Common Law and Liberal Theory by James Stoner, Legal Studies Forum 18 (1994) 113-123
"The Modernization of Contemporary Chinese Law," The Review of Politics 55 (1993) 443-470
Translation: Karl-Otto Apel, "Can an Ultimate Foundation of Knowledge Be Non-Metaphysical?" (Journal of Speculative Philosophy, 1993)
"The Parameters of Possible Constitutional Interpretation" in Robert Wuthnow, ed., Vocabularies of Public Life: Empirical Essays in Symbolic Structure (London: Routledge, 1992) 207-233; Japanese translation in Kokugakuin Hogaku 32 (1995), no. 2 and no. 3
"The Fate of Liberalism in the New, Tripolar World-Order" in Yoshiyuki Ogasawara (ed.), Chiiki-Funso to Sogoizon. Tokyo: University of Foreign Studies Press (1993) 1-27
Review: From Marx to Kant by Dick Howard (SUNY Press, 1988), Theory and Society (1989) 417-423
Review: Kritik der Macht. Reflexionsstufen einer kritischen Gesellschaftstheorie by Axel Honneth (Suhrkamp Verlag, 1988), New German Critique 47 (1989) 183-188
"Falankefu xuepai dui lixin tongzhi de pipan" [The Frankfurt School's Critique of Rational Authority] in Guowai Shehui Xue 4 (1988) 3-9
Translation: Jürgen Habermas, "Felicitation" (in An Unmastered Past, University of California Press, 1988)
Translation: Leo Lowenthal, "The Left in Germany Has Failed" (in An Unmastered Past, University of California Press, 1988)
Review: "Modernity in Frankfurt: Must a History of Philosophy be a Philosophy of History?", review essay on Norm, Critique, and Utopia by Seyla Benhabib, Theory and Society 16 (1987) 139-151
Review: "In Defense of a Skeptical Rationalism" in Theory and Society 16 (1987) 159-163
Translation: Samuel Weber, "The Parable" (in Daniel Paul Schreber, Memories of My Nervous Illness, Harvard University Press, 1987)
Translation: Herbert Schnädelbach, "What is Neo-Aristotelianism?" (Praxis International, 1987)
Translation: Sigrid Meuschel, "The Search for Normality in the Relationship Between Jews and Germans" (New German Critique, 1986)
Translation: Helmut Dubiel, Theory and Politics (MIT Press, 1985)
Review: Theory and Politics by Helmut Dubiel (MIT Press, 1984), Telos (1985) 207-214
Recent Awards
Fulbright –Johannes Kepler Universtiy of Linz Visiting Professor, Spring 2016, for research on Second Nature (see below)
Three-year grant for the Humanities Research Award, College of Liberal Arts, UT-Austin, 2014, 2015, 2016, for research for monograph, Second Nature: The Political, Legal, and Moral Consequences of the Human Species Taking Control of its Genome
Faculty research travel award from The Center for European Studies for archival research at the Federal Commission for Documents of the State Security Service of the former German Democratic Republic (die Bundesbeauftragte für die Unterlagen des Staatssicherheitsdienstes der ehemaligen Deutschen Demokratischen Republik), for a project on the distinctly, indeed vehemently petit-bourgeois quality of the normative presuppositions of post-fascist, ordinary totalitarian regime of the usual Soviet-bloc variety, as expressed by the self-understanding of East German spies (2010).
Research fellowship from the Friedrich-Naumann-Stiftung, Berlin-Babelsberg, Germany, undertaken at the Humboldt Universität zu Berlin (2008)

College of Liberal Arts 1999 Silver Spurs Fellowship for outstanding scholarship and teaching

Recent Guest Professorships
Leopold-Franzens Universität, Innsbruck, Austria (2013, 2015)
Europa Universität Viadrina, Frankfurt an der Oder, Germany (2009, 2012, 2013, 2014)
Recent or Upcoming Presentations
2016 Invited, "Menschliche Natur als politisches Problem: Genmanipulation," Institut für die Wissenschaften vom Menschen, Vienna, Austria, April 13
2015 "Fetus Ex Machina: The Political Challenge of Genetic Engineering" annual meeting of the Association for Politics and the Life Sciences, University of Wisconsin at Madison, October 24
2015 Invited, "Don't Give Up on Human Rights," Department of Political Science, University of Missouri at Columbia, September 21, 12 pm
2015 Invited, "A Human Right Not to Democracy but to the Rule of Law," Department of Political Science, University of Missouri at Columbia, September 21, 3 pm
2015 "Social Inequalities in the Enhancement of Health through Genetic Manipulation," European Consortium for Political Research General Conference, Standing Group on Political Theory, Université de Montréal, Canada, August 26-29
2015 "Human Nature as Cultural Design: The Political Challenge of Genetic Engineering" International Society for the History, Philosophy, and Social Study of Biology, Université du Québec à Montréal, Canada, July 5-10
2015 "A Human Right Not to Democracy but to the Rule of Law," Annual Conference of the Association for Social and Political Philosophy, University of Amsterdam, The Netherlands, June 25-26
2015 Invited, "Human Rights as Constructs: Without Religion or Metaphysics," Centre for Contemporary Aristotelian Studies in Ethics and Politics, London Metropolitan University, UK, May 26 (Respondent: Bill Bowring)
2015 Invited,"Human Nature as Cultural Design: The Political Challenge of Genetic Engineering," University of the West of Scotland, Paisely, UK, May 22 (Respondent: Darryl Gunson)
2015 Keynote Address, Glasgow Human Rights Network, University of Glasgow, "Challenges to Human Rights Theory and Practice," Scotland, UK, May 20(Respondent: Kurt Mills)
2014 Author-Meets-Critics Roundtable on Gregg, Human Rights as Social Construction," American Sociological Association, Annual Meetings, San Francisco, August 16-19
2014 "Human Rights and 'Humanitarian' Military Intervention," Critical Sociology Conference, American Sociological Association Annual Meetings, Marriot Marquis, San Francisco, August 18
2014 "Do Human Rights Require Democracy and the Rule of Law?" International Political Science Association World Congress, Montréal, Québec, July 19-24
2014 "The Local Construction Of a Human Right To Democracy," XVIII ISA World Congress of Sociology, Yokohama, Japan, July 13-19
2014 "What Cognitive Sociology Can Contribute To Human Rights Diffusion," XVIII ISA World Congress of Sociology, Yokohama, Japan, July 13-19
2013 Keynote Speaker: "Advancing Human Rights by Bringing Them Down to Earth," Student World Assembly, Norwalk, Connecticut, November 19
2013 Invited Lecture: "The Pathology of the Surveillance State: On Reading My Stasi File," British Studies, University of Texas as Austin, October 25
2013 American Political Science Association, Annual Meetings, "Author-Meets-Critics Roundtable on Gregg, Human Rights as Social Construction," Chicago, 29 August – 1 September, with panelists Andrew Koppelman, Northwestern University; Alison Brysk, UCSB; Michael Goodhart, University of Pittsburgh; Micheline Ishay, University of Denver
2013 American Political Science Association, Annual Meetings, "Human Rights Patriotism," Chicago, 29 August – 1 September

2013 American Sociological Association, Conference on Re-Imagining Human Rights – The Challenge of Agency, Creativity, and Global Justice, "International Relations in a Community of Human Rights States," August 13, The Westin New York at Times Square, New York City
2013 Russian Political Science Association and International Political Science Association Research Committee, "Developing Human Rights Commitment in Post Communist Societies through Education," St. Petersburg, Russia, 13-14 June
2013 Midwest Political Science Association, Annual Meetings, "Author-Meets-Critics Roundtable on Gregg, Human Rights as Social Construction," Chicago, April 11-14 with panelists Dana Villa, University of Notre Dame; Jonathan Allen, Northern Michigan University; Adam Seagrave, University of Notre Dame; and Kristen Johnson, Hope College
2013 Midwest Political Science Association, Annual Meetings, "The Human Rights State: Nongeographic 'Borders' Embedded in the Citizen," April 11-14
2012 Europa-Universität Viadrina (Germany), "Unilateral Military Intervention to Stop Human Rights Violations: Defensible on What Human Rights Basis?" May 11
2012 Southern Sociological Society: "Genetic Manipulation and the Difference between Being a Body and Having a Body," New Orleans, March 21-24
2011 Dritter gemeinsamer Kongress für Soziologie der Deutschen Gesellschaft für Soziologie, der Östereichischen Gesellschaft für Soziologie und der Sweizerischen Gesellschaft für Soziologie: "Gegen politische Alltagesentfremdung und –asymmetrie: Zur Bildung einer kritischen Internet-Öffentlichkeit," Innsbruck, Austria, 29 September – 1 October
2011 Dritter gemeinsamer Kongress für Soziologie der Deutschen Gesellschaft für Soziologie, der Östereichischen Gesellschaft für Soziologie und der Sweizerischen Gesellschaft für Soziologie: "Menschenrechtsnormen als treibende Subjekte des Strukturwandels der Welt-Öffentlichkeit: Zum Pluralismus hin," Innsbruck, Austria, 29 September – 1 October
2011 Political Studies Association (UK) Annual Conference: "The Genetic Self-Enhancement of the Human Species: Human Nature as Cultural Choice," London, UK, 19-21 April
2011 Invited talk, University of Nebraska: "Self-Granted Human Rights," 23 January
2010 Société suisse de Sociologie, international conference titled: "Perspektiven der Aufklärung − zwischen Mythos und Realität," Bern, Switzerland, 16-17 September 2010: lecture titled "Aufgeklärte Eugenik oder Eugenik wider Gleichheit?"
Graduate and Undergraduate Courses Taught
Manipulation of the Human Genome: Legal and Moral Issues; Political Theory Field Core Seminar on Plato, Augustine, Spinoza; Empire and Early Modern Theory; Global Justice; Contemporary American Social Theory; Contemporary European Social Theory; Critical Social Theory; Political Community; Theories in Social Science; Social Theories of Law and Politics; Law and Morality in German Social Thought; Politics of Constitutional Meaning; Legal Modernization in China; State Sovereignty and Human Rights; Contemporary Political Theory; Kant and Hegel; Social Theory in Political Analysis; Early Cosmopolitan Political Thought: St. Paul, Badiou, Derrida
Collection of Essays, Comparative Sociology 9(5) (2010), titled "Enlightened Localism in Comparative Perspective" (applying various aspects of the theory I develop in Coping in Politics with Indeterminate Norms: A Theory of Enlightened Localism) with contributions from
▪ Benjamin Gregg. "Enlightened Localism in Comparative Perspective," Comparative Sociology 9(5) (2010):594-610
▪ Lea Ypi (Oxford University, UK): "Basic Rights and Cosmopolitan Justice from an Enlightened Localist Perspective," Comparative Sociology 9(5) (2010):594-610
▪ Jonathan White (London School of Economics, UK): "Responding to Norm Indeterminacy beyond the Nation-State Frame," Comparative Sociology 9(5) (2010):611-630
▪ Junmin Wang (University of Memphis, USA): "Enlightened Localism in Contemporary China: Political Change in Property-Rights Institutions of Township and Village Enterprises," Comparative Sociology 9(5) (2010):631-662
▪ Ko Hasegawa (Hokkaido University, Japan): "Integrating a Racial and Ethnic Minority into Dominant Society from the Perspective of Enlightened Localism: The Case of the Japanese Ainu," Comparative Sociology 9(5) (2010):663-685
▪ Manu Ahedo Santisteban (University Rovira Virgili, Spain): "Enlightened Localism and Local Experimentalism in Public Policy: Schooling Policies of Children with Immigrant Backgrounds in Denmark and Spain," Comparative Sociology 9(5) (2010):686-710
Collection of Essays, Comparative Sociology, forthcoming in issue 5 of 2012, titled "Comparative Perspectives on Social Integration in Pluralistic Societies: Thick Norms versus Thin" (applying various aspects of the theory I develop in Thick Moralities, Thin Politics: Social Integration across Communities of Belief (2003)), with contributions from
▪ Benjamin Gregg, "Comparative Perspectives on Social Integration in Pluralistic Societies: Thick Norms versus Thin"
▪ Kristen Johnson: "Towards a Vision of Thick Conversation: Explorations in Bioethics and Interfaith Deliberation"
▪ Patti Lenard: "Democratic Self-Determination and Non-Citizen Residents"
▪ Aaron Struvland: "Religion and the Prospects for Thin Politics"
▪ Peter Mohanty: "Thick and Thin Public Sentiments and the Politics of Immigration in Europe"
▪ William O'Neil: "Mediating Between Thick Invocations of the Common Good and Thin Appeals to Human Rights: The Case of South Africa"
▪ Harry Dahms: "Theorizing Europe as the Future of Modern Society: European Integration between Thick Norms and Thin Politics"
New review 1: Human Rights as Social Construction
---
Human Rights Review
© Springer Science+Business Media Dordrecht 2014
10.1007/s12142-014-0321-7
Human Rights as Social Construction by Benjamin Gregg
Cambridge: Cambridge University Press, 2012
(1)
Center for Worker Education, The City College of New York (CUNY), 25 Broadway, 7th Floor, New York, NY 10004, USA
Published online: 26 April 2014
Since at least 1947, when a UNESCO committee asked some of the world's top philosophical minds to provide justifications for the idea of human rights, the bond between philosophy and human rights activism has been more contested than celebrated. In the 65 years since the passing of the UN Universal Declaration, the cause of human rights has made great headway in the world. The philosophy of human rights, however, remains embroiled in debates that, to the outside world, must seem all but intractable. Philosophers still argue about the exact nature of human rights—about where they arise and what they entail. Are they the products of natural law or positive jurisprudence? Are they universal or do they reflect local, cultural tendencies? Like philosophy more generally, the philosophy of human rights provides more questions than answers. In this respect, some have suggested that it serves little purpose in contemporary struggles to enact and enforce human rights across the globe.
Benjamin Gregg's Human Rights as Social Construction admirably seeks to remedy this situation. It does so by puncturing some of the hubris that often accompanies philosophical debate, while simultaneously elevating the conceptual contributions to the idea of human rights made by such varied fields as sociology, anthropology, and evolutionary biology. It is the implicit, interdisciplinary argument of Human Rights as Social Construction, in fact, that by becoming more like these disciplines, philosophy might avoid some of the perennial stumbling blocks that it sets for itself. Rather than seeking final, transcendentally derived foundations for human rights, Gregg suggests a "social constructionist" (1) approach, one that views human rights less as an unyielding cornerstone for moral theory and more as a "rhetorical vehicle" (5) capable of carrying various meanings and serving multiple purposes. Unlike some of his more transcendentally or analytically inclined colleagues, Gregg emphasizes a "pragmatic imperative for desired results" over an "epistemological imperative for objective truth" (5).
Gregg sets himself the difficult, paradoxical task of articulating plausible foundations for his human rights anti-foundationalism. "To embrace the idea of human rights," he claims, "one need not ground it" (14). His is a secular, pragmatic, and thoroughly contextual conception of human rights, one that eschews any discussion of such unmoved movers as human nature, divine dignity, or even transcendental rationality. His post-metaphysical and post-theological perspective, articulated in the either/or logic of the first two chapters of the book, points him in the direction of localism over universalism, of anthropology, neurobiology, and sociology over and against theology. Emphasizing the importance of human culture and, consequently, human agency, Gregg thinks that "we humans can pull ourselves up morally by our own normative bootstraps" (38). To do so requires abandoning a conception of human rights as something given, waiting to be discovered, in favor of seeing them as something made—and made by us.
Conceiving of human rights as a social construction, as a product of human agency, local culture, and pragmatic politics, has several distinct advantages, chief among them being that such a conception travels better in the world and "does not require coercive promotion" (74). If we construct human rights, then we are responsible for them. We cannot hide behind theological or metaphysical precepts. Keen to avoid charges of cultural imperialism, Gregg advocates a relativistic, "goal-oriented moral minimimalism" (78), resources for which he finds in the various cultural and psychological processes comprising cultural socialization. Human rights, in other words, are a learning process. They are products of an "assertive selfhood" (91) that both reflects and motivates moral autonomy. To claim rights is to have them, but to claim them requires a prior "socialization into assertive selfhood" (106), something Gregg interprets as a fundamentally cultural process, though it must certainly be historical, too.
Expanding on the idea of self-authored human rights presented in chapter four, Gregg then turns, in chapter five, to the role played by the emotions in the development of the idea of human rights. Here he draws upon research in the areas of intellectual history and neurobiology, making the case that "mutualism and altruism" are biological dispositions that can be harnessed by a particular kind of cultural socialization—namely sentimental education—in the service of human rights solidarity. As scholars such as Richard Rorty and Lynn Hunt have argued, sentimental education may actually prove more beneficial for human rights than any set of rational, philosophical arguments articulated on their behalf (117, 125). Sentimental persuasion trumps philosophizing, it seems, and some might wish that there were more of it on display throughout this rigorously argued but densely written book.
In chapters six and seven, which comprise part three of Human Rights as Social Construction, questions of real-world application emerge. Adopting a sociological approach, Gregg describes his method here as "modernist, non-absolutist, historicizing, and contextualizing" (155). Above all, he wants to present human rights as fluid and flexible—more a "cognitive style" than a fixed set of doctrines (147). This "cognitive style" promotes and is necessarily open to what Gregg, drawing on the work of sociologist Erving Goffman, calls "reframing" (164). Tackling such vexing real-world issues as child prostitution and female genital cutting, Gregg offers examples of how "reframing"—a kind of cognitive persuading, we could call it—might help the back-and-forth process of translating human rights values into and out of local, cultural contexts. Chapter eight attempts a similar negotiation with regard to the question of genetic manipulation. Rejecting the "re-enchantment of human nature" (206) advocated by some critics of biotechnology, including even heirs to the Frankfurt School-derived critique of the so-called "dialectic of Enlightenment," a tradition he otherwise embraces, Gregg again emphasizes human, cultural responsibility for our moral self-concepts, even and especially when they confront such difficult questions as the definition of nature itself.
Human Rights as Social Construction ends where it begins, with politics. In the final chapter of the book, Gregg recommends "re-conceiving the nation-state" along the lines of the human rights idea (216). As a way station between local vernaculars and universal aspirations, the nation-state would ensure that human rights are "established and enforced at local levels as locally valid norms" (222). Arguing for political conceptions of human rights over and against narrowly metaphysical or theological ones, Gregg concludes by urging us to "assume the stance of active producers of our fate" rather than continuing to think of ourselves as "passive 'consumers' of otherworldly givens" (234). In a day and age when consumerism continues to define ever more of our lives, including even our nation-state citizenship, one can only hope that those still left in the public sphere are listening, and that they are at least partly persuaded.
New review 2 : Human Rights as Social Construction
---
René Wolfsteller
Human Rights Quarterly, Volume 36, Number 2, May 2014, pp. 492-496
(Article)
Published by The Johns Hopkins University Press
DOI: 10.1353/hrq.2014.0031
Benjamin Gregg, Human Rights as
Social Construction (Cambridge
University Press, 2013), ISBN 978-
1-1076-1294-5, 272 pages.
The evolution of the political theory of
human rights for the past twenty years
is perhaps best described—by altering
a phrase of Charles Taylor1—as a
"metaphysical limbo" of legitimation. In
the course of this "limbo" scholars from
various disciplines have been engaging in
a competition to provide a better, more
persuasive foundation for the universal
legitimacy of human rights, but simultaneously
with allegedly less demanding
1. Charles Taylor, What's Wrong with Negative Liberty, in The Liberty Reader 162 (David
Miller ed., 2006).
2014 Book Reviews 493
assumptions. Yet, rather than revealing
a universal basis of legitimacy to make
human rights more accessible and attractive,
many scholarly suggestions
have contributed to the construction of
new boundaries. Those boundaries have
typically been the result of a dubious
recycling of rational inequality, whereby
some people are considered capable of
making use of their reason in a superior
way to others,2 and hence are able to
lead morally virtuous lives according to
human rights norms. For example, such
boundaries and limitations of equality
were fuelled by arguments that human
rights require a theological fundament,
like the belief in God and human sacredness.
3
In a more interventionist sense, the
liberal philosopher John Rawls argued
that societies abiding human rights as
"part of a reasonable law of peoples"
have the duty to subject so-called "outlaw
regimes" to the rule of "reasonable and
just law" in order to overcome the state of
nature.4 In his contribution to the debate,
the postmodernist Jean-François Lyotard
insisted on the fact that the "right to
speak" as "the most fundamental human
right" has to be merited by undergoing
a certain process of "civilization" to
free oneself from "his animal nature."5
However, the nadir of this competition
has been the claim of the communitarian
Amitai Etzioni, whereby people "under
the influence of . . . alcohol, drugs, or
merely a high dose of mass culture, or
those who are mentally handicapped, are
blind to even the most shining normative
light," and thus, are the main obstacle to
the realization of human rights within
liberal democratic societies.6
With his study Human Rights as Social
Construction, the political theorist
Benjamin Gregg intercedes in the dispute
with a conception of human rights that
tries to tear down those boundaries, to
make human rights more accessible,
and to mediate between the numerous
diverging approaches in the field. Gregg's
aim is to ground the normative debate
over human rights in a "realistic" and
"pragmatic" way, and he does so mainly
by drawing on sociological and anthropological
insights. In fact, his book can
be considered the first analysis within the
field of political theory of human rights
that pays attention to sociological as well
as anthropological explanations to such
a serious extent. Backed up by this transdisciplinary
lens, Gregg puts a persistent
emphasis on the fact that particular local
communities of people always socially
construct moral norms.
Sociologists may find this assertion
to be a rather mundane insight. Within
normative political philosophy, however,
it allows Gregg to emphasize the
"political" nature of human rights as a
contingent "this-worldly" idea which is
up for negotiation, but not necessarily
ineffective or dispensable. Once we have
come to accept the fact that human beings
are the sole authors of social norms
on earth, it follows that it is both possible
and necessary to create effective
behavioral norms for themselves. From
that assumption Gregg deduces that
2. Cf. Niklas Luhmann, 2 Die Gesellschaft der Gesellschaft 1023 (1997).
3. Michael J. Perry, Toward a Theory of Human Rights: Religion, Law, Courts 25 (2007).
4. John Rawls, The Law of Peoples, in On Human Rights: The Oxford Amnesty Lectures 1993,
at 41, 70–73 (Stephen Shute & Susan Hurley eds., 1993).
5. Jean-François Lyotard, The Other's Rights, in On Human Rights, supra note 4, at 135,
141–42.
6. Amitai Etzioni, The Normativity of Human Rights Is Self-Evident, 32 Hum. Rts. Q. 194
(2010).
494 HUMAN RIGHTS QUARTERLY Vol. 36
human rights are valid only if people
consciously and self-reflexively come to
hold human rights norms on an individual
level. Moreover, if these norms become
entrenched in the social institutions of
a community, such as the legal order
and public education, they will in turn
reinforce the development of individual
"human rights personalities."7 Therefore,
he argues that people have to be socialized
into a solidarity based on the mutual
expectation of granting each other these
locally defined human rights. And yet, it
would not require a collective identity
or the idea of a human nature to bring
about a shared human rights consciousness,
because in a highly individuated
society it is much more promising that
people become integrated into a moral
community by "difference" rather than
by "identity." Here, Gregg adopts Georg
Simmel's observation that members of
modern societies are constantly weaving
themselves into multiple "webs of affiliations"
by interacting with different social
groups. Such "non-normative webs"
of group affiliations, Gregg concludes,
would help to raise awareness for the
interests and feelings of others precisely
as "others," despite all their differences.8
After rejecting both theological9 and
metaphysical10 conceptions of human
rights, Gregg sets out in greater detail
how his approach might better contribute
to the core goal of the human rights
project which he sees as helping people
"at the bottom of social hierarchies,
and oppressed minorities and socially
marginalized groups" to get protection
from mistreatment by deploying "human
rights as a moral language to win for
themselves the human rights they want."11
One essential element of his proposal is
the approach of "normative localism."12
Inspired by the anthropological finding of
the cultural particularity of social norms,
Gregg develops the idea of deriving
normatively "thin" human rights from
"thick" local norms to reach an agreement
between different communities
that is more than just locally valid. Such
a minimalist understanding of human
rights norms would leave room for local
peculiarities and would not necessarily
require adopting a "Western" political
culture. If the most basic requirement
for human rights is the general capacity
to put oneself in the other's shoes, then
Gregg sees potential for developing a
human rights consciousness in almost
any community. At the same time, a minimalist
understanding renders it a more
realistic goal to eventually reach universal
validity of human rights, namely when a
majority of communities freely embrace
them as moral norms on a local level.13
In order to accomplish this, Gregg also
explores how people can authorize and
grant themselves human rights in ways
that are not dependent on legal or political
institutions, although he admits that,
in the end, recognition by the state is desirable.
Since human rights are ultimately
a type of "belief system" which guide
people's behavior, the key for Gregg is to
facilitate the development of a personality
structure of "assertive self-hood." Such
a form of identity emerges through collective
political action, by challenging
oppressive authorities, and by adopting
7. Benjamin Gregg, Human Rights as Social Construction 25 (2013).
8. Id. at 51–54.
9. Id. at 13.
10. Id. at 37.
11. Id. at 33.
12. Id. at 57.
13. Id. at 62.
2014 Book Reviews 495
a non-idiosyncratic perspective that
"recognizes others in their self-granting
activity."14 Ultimately, the difficult task
of the project for self-authored human
rights would be "to achieve recognition
even in local environments hostile to
them, and to do so from within the local
culture."15 As one means to achieve
this recognition, Gregg investigates how
altruism as a natural emotional disposition
can be fostered through "sentimental
education"16 in order to supplement
rationally motivated practices of human
rights-based solidarity.17
Another direction suggested by Gregg
is to translate human rights into local,
culturally authentic vernaculars through
actors developing a "dual consciousness"
as rights-bearers on the one hand, and as
kinsmen on the other. Ideally then, indigenously
interpreted human rights would
resonate with local culture instead of
clashing with it.18 For human rights norms
to appear plausible and attractive enough
to be seized by local communities, Gregg
recommends a cognitive technique—reframing
the issues at stake—instead of
an attempt at persuasion by normative
argumentation.19
Following an excursion into problems
with defining the "human being" from a
constructivist point of view, in his final
chapter20 Gregg pleads for the substitution
of today's nation-state with what he
calls the "human rights state." According
to him, only a state, which recognizes
people's rights and dignity, not according
to their arbitrary assignment to a nation
but to their status as biological members
of the human species, is likely to enforce
human rights effectively.21
This ambitious plea for the transformation
of the modern nation-state also indicates
that Gregg pursues a twofold goal.
On the one hand, his study is written in
the rigorously rationalistic and, at times,
quite lengthy style of analytic philosophy,
clearly aiming at an academic audience.
On the other hand, with its pragmatic
and realistic impetus, his exploration of
various resources to implement human
rights is certainly aspiring to have realworld
effects. Compared to the prevailing
approaches in the field, Gregg's pool of
relatively concrete suggestions is indeed
closer to that aim than any other philosophical
conception of human rights.
Nevertheless, Gregg proves to be aware
of the limits of his argumentation, admitting
that "[t]he project for self-authored
human rights is inherently unlikely and
. . . will remain difficult to realize."22 He
is also willing to acknowledge that, no
matter how normatively "thin" or minimal
human rights are being defined, as a set
of culturally specific norms they "cannot
be free of all cultural imperialism"23 and
will always pose a challenge for some
local communities if they are supposed
to have any effect. All the more important
for Gregg is to frame human rights norms
in a way that resonates with local culture.
However, the three strengths of
Gregg's approach—realism, pragmatism,
14. Id. at 99.
15. See id. at 97; id. at 96.
16. Id. at 125.
17. Id. at 111.
18. Id. at 135.
19. Id. at 157.
20. Id. at 185.
21. Id. at 212.
22. Id. at 105.
23. Id. at 152.
496 HUMAN RIGHTS QUARTERLY Vol. 36
and inter-disciplinarity—also give cause
for dissent. Gregg is not always successful
when he draws on concepts that were
grown within the intellectual habitat of
sociology or anthropology and attempts
to translate these into normative philosophical
currency. For instance, when
he develops the technique of "cognitive
reframing" by drawing on Erving
Goffman, it remains sketchy as to what
kind of additional benefit there is to be
illuminated, other than the (previously
stressed) insight on how important it is
for people to become socialized into a
belief system of human rights in the first
place. Moreover, there is an inherent
contradiction arising from Gregg's human
rights conception with respect to its pragmatic
focus. Although he wants human
rights to be understood in a minimalist
fashion, that is, as a contingent "rhetorical
vehicle" comprising the "rights to life,
safety, and personal liberty; to belief, expression,
and conscience; and to privacy
and property,"24 this definition is itself
anything but free from any presupposition.
By generally rejecting theological
and metaphysical foundations of human
rights as counterproductive, Gregg also
obstructs one important way for some
people in some communities to access
human rights language. This contradicts
his pragmatic bias that puts emphasis
on achieving the desired results—the
implementation of human rights norms—
ideally from within a local community.
Finally, there is a serious tension
between Gregg's claim to investigate
the subject in a realistic manner and
his strong emphasis on the necessity for
individuals to develop a "human rights
personality." This personality is implicitly
based on inner consistency, rational insight
into the primacy of moral norms as
well as a high level of self-reflexivity. As
a result, Gregg is not able to completely
break the cycle of reproducing inequality
with regard to the implications of his
categories. With this line of reasoning he
also appears to be surprisingly close to
the Kantian tradition of political moralism
that realists such as Bernard Williams
or Raymond Geuss rebut by highlighting
people's general inconsistency, the
historical specificity of political events
and institutions, and the importance of
power for social relations. Nonetheless,
Gregg's analysis raises hopes for a new
wave of realistic and pragmatic, or at least
sociologically informed, investigations to
emerge within political theory that fruitfully
explores the preconditions and the
accessibility of human rights for people
living in a variety of political and cultural
environments.
René Wolfsteller*
University of Glasgow
New review 3: Human Rights as Social Construction
---
Critical Exchange on Human Rights as Social Construction by Benjamin Gregg
Cambridge University Press, Cambridge, 2011, 272 pp., ISBN: 978-1107612945
Contemporary Political Theory advance online publication, 20 May 2014;
doi:10.1057/cpt.2014.10
Andrew Koppelman:
Benjamin Gregg's book, Human Rights as Social Construction, propounds an
understanding of human rights that is based upon 'a wholly naturalistic conception'
of humanity, one 'that takes human nature as biologically understood and eschews
supernatural explanations, whether theological or metaphysical' (p. 185). He oscillates
between two conceptions of this project: an abstemious, neo-Rawlsian political
liberalism, and a comprehensive view that rejects religious and metaphysical claims.
The first, more modest version holds that any conception of human rights must at
least be consistent with, and ideally would emerge from, local norms: 'the task of the
human rights project is to generate agreement on human rights in widely different
cultural and political contexts in which the advocated rights are attuned to local
distinctions, peculiarities, and preferences' (p. 60). Speculative disagreement is not
important, because 'human rights are best understood in terms of the pragmatic
imperative for desired results, as distinguished from, say, an epistemological
imperative for objective truth' (p. 5).
That attention to local context is not inconsistent with ideas about the supernatural.
The smartest missionaries understand that, in order to proselytize effectively, you have
got to get to know the natives. People with different metaphysical assumptions can and
sometimes do converge on the same principles of human rights, but each of them gets
there by reference to her own comprehensive view. This is what John Rawls had in
mind when he argued for an 'overlapping consensus' on the principles of political
cooperation. In an overlapping consensus, they may disagree about the ultimate
foundations of the political principles that govern them, but they agree upon the
principles, those principles are moral ones, and they are affirmed on moral grounds (see
Rawls, 2005, pp. 144–150). Gregg sometimes sympathizes with this approach (p. 35).
The dominant theme of Gregg's book, however, epitomized in the title, discards
Rawls's deliberate reticence and declares that human rights is a social construction
and nothing else. '[T]ranscendental norms can only be a figment of the imagination',
and 'the moral self-ennoblement of human beings is precisely that of humankind
giving itself norms of social and political behavior' (p. 4). This is the mirror image of
his principal adversaries, such as Michael Perry who claims that if human rights is
to be coherent it must have a religious foundation (see Perry, 2007).1 Gregg's is
a coherent alternative to Perry.2
Gregg's book is an energetically argued working out of a distinct position about
human rights, showing how endorsement of such rights can be developed on a purely
secular basis, rooted in local norms – for example, by reinterpreting traditional
understandings of kinship obligations (p. 96). It is an effective rejoinder to Perry's
claim to show the True and Only Way. But it is the kind of thesis that Rawls carefully
stayed away from, because he understood that secularism is itself a comprehensive
view that could never command broad agreement. In its own way, it is (as Gregg says
of Perry) 'cultural particularism masquerading as universalism' (p. 20). Rawls would
have emphasized that Perry and Rorty both can support a just society, even if they
never agree on ultimate foundations. But Gregg wants to insist that Perry's own basis
for human rights commitments be rejected.
The trouble seems to lie in Gregg's unstated assumption that there needs to be not
only a set of agreed-on human rights, but also an agreed-on basis for those rights.
Social constructionism has a comparative advantage over religion as a candidate
for this job: 'social constructions are not necessarily exclusive, but every religion is'
(p. 19). Some people may find social constructionism particularistic, but it is 'never
as particular as any rival faith or as any argument grounded in revelation and rival
revelatory traditions' (p. 21).
But why assume that this job needs to be filled at all? If there is agreement on
rights, why does there need to be agreement on their basis? Jacques Maritain
famously quipped, during the drafting of the Universal Declaration on Human
Rights, that 'we agree about the rights but on condition no one asks us why' (quoted
in Glendon, 2001, p. 77). Agreement was to be reached 'not on the basis of common
speculative ideas, but on common practical ideas, not on the affirmation of one and
the same conception of the world, of man, and of knowledge, but upon the
affirmation of a single body of beliefs for guidance in action' (Glendon, 2001,
pp. 77–78). Gregg, on the other hand, wants a single rationale, one that, if not
universal, can at least claim a large market share. Thus, a misconception of the
kind of universality to seek renders his argument self-defeatingly parochial.
Gregg's rhetorical and ontological commitments sometimes collide, most clearly
when he takes up human rights in Islam. He repeatedly argues (mainly in Chapter 6)
that Muslim understandings can be reframed to allow for human rights. Muslims,
however (as well as the Christians Gregg admires, such as Las Casas (p. 43)), are
unlikely to agree that 'the natural world contains no information about normative
systems' (p. 39). They emphatically will not 'reject any norm that claims validity as
a matter of supernatural revelation' (p. 155, n. 31). Their view will look a lot like
Perry's.
The notion of 'empirical rationales' (p. 91) for rights, rights 'understood
biologically not metaphysically' (p. 46), runs into the old Humean problem that you
cannot derive an ought from an is. Gregg repeatedly tries to claim, in various ways,
that human rights can somehow be derived from natural facts. They cannot. The
similarity of my DNA to yours (p. 4) does not entail that I have any obligations
toward you. Natural human dispositions can be the basis for cultural agreement on
human rights (pp. 41, 45 and Chapter 5), but the same dispositions enable everything
Gregg hates, from genocide to religion and metaphysics. He suggests that morality
might be grounded in 'prudential reciprocity', which 'motivates behavior along the
lines of mutual benefit' (p. 24), but torturers will cheerfully admit that they would not
want to be tortured themselves. He claims that the 'idea of human health' possesses
'normative force' (p. 198), which can guide efforts at genetic enhancement (p. 200).
'Health', however, is a contested concept. Sickness is deviancy from a norm.
The norm is not given by nature. The 'blight' that strikes corn is labeled a disease
because humans want the corn crop to survive; otherwise we would just talk about
the competition between two species.3 Health is simply a desirable state of affairs. Its
desirability is not a natural fact.
Nor is culture a reliable basis for human rights. He repeatedly insists that local
commitments 'may' or 'might' or 'could possibly' be a basis for human rights
(pp. 24, 49, 53, 60, 71, 96, 112). Certainly they could, and Gregg's attention to the
various ways in which they could is a great strength of his book. But of course they
can be the basis for all sorts of behavior, including the atrocities that motivated
the human rights project in the first place.4 He offers many sensible reflections
about how local cultures can be transformed to make them human rights friendly,
but this project needs a prior commitment to such rights in order to motivate it.
Gregg needs to own up to the fact that his commitment to human rights is not
grounded in anything further, for the simple reason that any normative commitment
must at some point hit bedrock that demands no further justification. (Another
entailment of the Humean point that you cannot derive an is from an ought.) This is
a problem for Perry, who seems to think that belief in God shields him from the need
for justification, when of course the fact of God's existence, without more, would
have no normative entailments either.5 (Satan does not doubt God's existence.)
Perry's commitment to human rights is more basic than his ontology. The same is
true of Gregg.
The bedrock character of human rights means that there is no way to guarantee that
everyone will agree about their validity. Gregg claims that 'normatively thin human
rights do not require coercive promotion' (p. 74), but soon admits that 'the idea of
human rights must reject its own violation' (p. 82) and that such rights, precisely because
they are socially constructed, 'exist' only if enforced' (p. 93). You just have to take sides.
Gregg's fallacy is the mirror image of Perry's. Believers in human rights represent
one faction on the planet. The other faction is potent. And busy. We should be grateful
for allies, instead of scolding them that my moral narrative is better than yours.
Notes
1 I have criticized Perry's claim elsewhere. See http://balkin.blogspot.com/2007/08/religion-and-humanrights.
html; http://balkin.blogspot.com/2007/08/partly-necessary-god.html.
2 The kind of argument Gregg offers has already been made familiar by Richard Rorty. See Rorty (1989).
Gregg's account of the cultural basis of human rights, however, is much more thoroughly articulated
than Rorty's.
3 See Bayer (1987, pp. 183–186).
4 At one point he acknowledges this: 'Human nature biologically understood guarantees nothing in a
political way or otherwise in a value-driven sense' (p. 114). But he still regards biology as somehow
relevant to his project.
5 See Dworkin (2013).
References
Bayer, R. (1987) Homosexuality and American Psychiatry: The Politics of Diagnosis, revised edn.
Princeton, NJ: Princeton University Press.
Dworkin, R. (2013) Religion without God. Cambridge, MA: Harvard University Press.
Glendon, M.A. (2001) A World Made New: Eleanor Roosevelt and the Universal Declaration of Human
Rights. New York: Random House.
Perry, M. (2007) Toward a Theory of Human Rights: Religion, Law, Courts. Cambridge: Cambridge
University Press.
Rawls, J. (2005) Political Liberalism, expanded edn. New York: Columbia University Press.
Rorty, R. (1989) Contingency, Irony, and Solidarity. Cambridge: Cambridge University Press.
Andrew Koppelman
Northwestern University Law School, Chicago, Illinois 60611, USA
akoppelman@northwestern.edu
Reply to Koppelman's review of Human Rights as Social Construction
I thank Andrew Koppelman for his generous attention to my work. One could not ask
for a more conscientious critic. He raises major issues and I am grateful for the
opportunity to respond, especially to his reading of five key points.
First, I do not assume, as necessary, some 'set of agreed-on human rights'. Instead
I argue that (a) proponents should strive asymptotically toward as much agreement
on human rights as possible at any given time; (b) that human rights work best as
freely embraced by their addressees, rather than as imposed; and (c) that they work
best in terms of self-determining political community holding itself accountable in its
treatment of its members. Disagreement is always likely, for example about whether
to include social and economic rights, and if so, which ones. But advocacy is not
deficient if it provides scope for, and access to, on-going deliberation and choice in
making and revising decisions. A social constructionist approach does so better than
can theological approaches with largely determinate and fixed doctrine largely
accepted by its adherents.
With regard to my claims that advocacy must not be coercive, that human rights
must reject their own violation and that they exist only if enforced, Koppelman
misses three things. (a) Agreement in and of itself does not guarantee compliance,
and agreement is not necessary to motivate at least some human rights facilitative
belief and action. (b) A proposition (in the form of a right, for example) must exclude
its own violation as a condition of its coherence. (c) To say that a norm 'exists' only if
it is enforced is to say that what matters is not merely to interpret the world but to
change it: the point of human rights is their actualization in behavior.
Second, my project, says Koppelman, 'needs a prior commitment to such rights in
order to motivate it' and requires 'an agreed-on basis for those rights'. But the
pragmatist goal is not for everyone to agree on a foundation for human rights but to
freely embrace and practice them on whatever basis.My 'reflections about how local
cultures can be transformed to make them human rights friendly' would generate
commitment, not presuppose it. For Koppelman, because 'any normative commitment
must at some point hit bedrock that demands no further justification', my
'commitment to human rights is more basic than [my] ontology'. But in my project,
commitment and ontology are one because most human being today regard dignity,
equality, freedom from bodily and other harm as goods, certainly for herself and, not
implausibly, for others as well. So where Koppelman's path is existential and
decisionist – 'you just have to take sides' – mine is rational and fallibilist: 'truth' or
'justice' at any given time refer to a temporary report from the field of experience and
inquiry, a 'snapshot' for current orientation, always revisable. Truth or justice are
neither impossible nor drained of their capacity to motivate behavior.
Third, Koppelman misconstrues social construction as just one more comprehensive
view no different from religion. He does so because two items elude him. First,
he fails to grasp social construction's capacity to coexist with a wide range of
competing comprehensive doctrines. It can cooperate with persons of faith who share
the goal of advancing human rights. Second, this secular approach might win more
people, and a wider variety of people, for the human rights project than a theological
one, and Koppelman cannot see that winning people in this way in no way entails
discouraging theologically motivated human rights advocates from pursuing human
rights work.
I offer three ancillary claims about a related point at issue between us: according to
Koppelman, my social constructionist proposal displays the very problems I identify
in the theological approaches I criticize. (a) He believes my approach seeks to
dissuade the faithful from their faith. In fact, it seeks instead to re-frame current local
understandings and practices to render them more human rights friendly. Re-framing
does not ask the re-framer to abandon his or her beliefs as such but rather to seek
a different way to attain them in practice, if freely persuaded that doing so will better
achieve his or her own goals. Thus mothers who have their daughters' genitalia cut
might be persuaded to mark the girls' passage from girlhood to adulthood in a way
that does not have the unwanted consequence of making the girls ill.
(b) Koppelman does not see how social construction can acknowledge pluralism,
and embrace toleration, without insisting on any particular pregiven or traditional
normative, theological, or metaphysical outlook. He does not see that most persons
invested in supernatural revelation also accept claims of a very different sort, for
example those that lead to standard medical diagnosis and treatment.
(c) Koppelman fails to grasp that pragmatism can be just as committed as
theological approaches to particularistic, substantive moral views. But unlike
otherworldly routes, a pragmatist commitment does not place unnecessary hurdles
in the way of adherents of different traditions who might be persuaded to embrace
the human rights idea.
Fourth, I say that human nature, biologically understood, entails nothing
normative. Yet for Koppelman, I 'still regard biology as somehow relevant' to my
project. He is flat-out mistaken: I nowhere claim that 'human rights can somehow be
derived from natural facts'. That the genome of any one human individual can
represent the genome of the species entails no moral norms but can be interpreted in
ways suggestive for the social construction of norms. For example, given that most
human rights abusers identify their victims in terms of their membership in particular
groups (religion, race, or caste, among others), the human rights idea may be
advanced if at least some abusers come to realize that such memberships are in fact
constructions whereas the species-wide genetic identity of all individuals is not. This
biological 'is' generates no normative 'ought'; it opens up a human rights friendly
vantage point that will resonate with some people.
And while 'natural human dispositions can be the basis for cultural agreement on
human rights', Koppelman concedes, the 'same dispositions enable everything …
from genocide to religion and metaphysics'. One wonders how dispositions to
sympathy, care or helpfulness might enable genocide (if directed to others; and
sympathy for one's own tribe hardly entails barbarism toward other tribes). But
where dispositions enable religion, they provide a standpoint – one internal, not
imposed from outside – from which to identify and criticize human rights abusive
behavior allowed or encouraged in other areas of the same religion. To be sure, such
dispositions will not always do the work that human rights advocates hope for. Nor
will another possible resource for advancing human rights thinking: prudential
reciprocity. (As Koppelman notes, 'torturers will cheerfully admit that they would
not want to be tortured themselves'.) But that a particular resource cannot guarantee
success, or might be deployed contrary to human rights, is simply a fact about the
limitations of resources. Koppelman's entailment – to abandon resources if they
cannot guarantee success, or guarantee against misuse – is self-defeating. The same
argument holds for his charge against my exploration of culture as a possible
resource for the human rights project. Culture, he writes, is not a 'reliable basis for
human rights' but the 'basis for all sorts of behavior, including the atrocities that
motivated the human rights project in the first place'. In fact, some cultural products
offer solid ground: the very idea of human rights, for example.
Fifth, Koppelman dismisses my argument that the desire to be healthy possesses
normative force. He urges instead that 'sickness' is nothing but a civilizational
construct, 'deviancy from a norm not given by nature', such that physical health is
nothing but a particular cultural preference, 'not a natural fact'. But cancer,
Alzheimer's, heart disease, strokes, diabetes, nephritis or influenza, for example, are
not merely parochial prejudices of this or that community. No community advocates
such conditions as desirable. Everyone views them as scourges. Afflicted persons
seek therapy and hope for cure. In this context, all participants invoke the same norm
of somatic health. Such universal purchase suggests an argument by analogy, and
some addressees of the human rights project will find it plausible: identical human
rights for identically embodied creatures, genetically identical at the species level.
According to Koppelman, a 'misconception of the kind of universality to seek'
renders my proposal 'self-defeatingly parochial'. Parochial means self-induced
limitation. But there is nothing parochial in social construction. Not if the goal is a
universal embrace of human rights as contingent achievement in hard-fought social
movements, domestic legislation and international instruments. And there is nothing
parochial in interpretive overlays of the common desire for health.
Benjamin Gregg
University of Texas-Austin, Austin, Texas 78712, USA
bgregg@austin.utexas.edu
New review 4: Human Rights as Social Construction
---
Michael Goodhart. 2014. "Recent Works on Dignity and Human Rights: A Road Not Taken," Perspectives on Politics, v. 12, n. 4, pp. 486-856
Dignity in Adversity: Human Rights in Troubled Times. By Seyla Benhabib. Cambridge: Polity, 2011. 288p. $69.95
cloth, $24.95 paper.
Human Rights as Social Construction. Benjamin Gregg. New York: Cambridge University Press, 2012. 272p. $99.00
cloth, $27.99 paper.
Human Dignity. By George Kateb. Cambridge, MA: Harvard University Press, 2011. 256p. $22.95.
Dignity: Its History and Meaning. By Michael Rosen. Cambridge, MA: Harvard University Press, 2012. 200p.
$21.95.
The Justice Cascade: How Human Rights Prosecutions Are Changing World Politics. By Kathryn Sikkink.
New York: W. W. Norton, 2011. 352p. $27.95 cloth, $25.62 paper.
Making Rights Claims: A Practice of Democratic Citizenship. By Karen Zivi. New York: Oxford University Press,
2012. 176p. $99.00 cloth, $24.95 paper.
Today the concepts of human rights and human
dignity have become "conjoined twins."1 Dignity
is ubiquitous, invoked in discussions of everything
from the ethics of stem cell research to dwarf tossing
(a near obsession among writers on this topic) and the prodemocracy
demonstrations in Cairo's Tahrir Square.
Prominent philosophers and political theorists—including
Ronald Dworkin, Jeremy Waldron, James Griffin, Jürgen
Habermas, and Rainer Forst—have recently used human
dignity to ground or expound upon their preferred
philosophical conceptions of human rights. If nothing
else, these are good times for Giovanni Pico della
Mirandola, whose 1486 "Oration on the Dignity of
Man" is trending.
While this surge of interest in human dignity is
noteworthy in itself, I shall not attempt to trace its
origins or to provide an overview of the concept's various
contemporary uses.2 Instead, I want to consider what
recent works on dignity reveal about the study of human
rights within our discipline. When I began my graduate
studies nearly 20 years ago, human rights were still in the
margins of political science; today they have become
central to it. Within political theory, human rights figure
prominently in debates on justice, democracy, and
accountability; in world and comparative politics, rights
are studied by scholars working on diverse topics,
including security, development, political economy,
international law and organization, social movements,
norm diffusion, and comparative democratization. Only
the subfield of American politics remains largely indifferent
to human rights.
Despite this mainstreaming of human rights within
political science, theoretical and empirical research on the
subject remains stubbornly segregated. Empiricists typically
treat the normative importance of rights as selfevident,
while normative scholars typically neglect the
boisterous political life of rights in their search for the
elusive justification or moral foundation that they remain
persuaded are lacking. This division is outmoded and
counterproductive: The politics of human rights might
well hold clues to their appeal and legitimacy, providing an
alternative route for apprehending their normative character;
likewise, their normative character seems indispensable
for making sense of the politics and institutions they
enliven.
Dignity seems to illustrate this point vividly. Not only
is it a hot topic in political theory—five of the six volumes
under review here are written by theorists—but recent
events have thrust it to the forefront of today's politics. To
name just a few examples: Dignity has been frequently
invoked in the Arab uprisings, by peasant and indigenous
movements from various parts of the globe, and in
antiausterity politics in Europe (think of Spain's tellingly
named indignados). Yet if dignity points in the direction of
the integrated study of human rights within political
science, it is a signpost for a road (so far) not taken.
These books, at least, mostly bypass it—and mostly to
their detriment. George Kateb and Michael Rosen take the
well-traveled philosophical route; rather than a bridge to
politics, dignity for them becomes a kind of bypass of it.
Benjamin Gregg and Kathryn Sikkink take different
constructivist paths: Gregg's leads him inadvertently back
to philosophy; Sikkink's takes her right to the bridge, but
she misses the turn. Only Seyla Benhabib and Karen Zivi
explore this road, with Zivi venturing a little farther. Still,
their work offers a map to an integrated political science of
human rights.
Kateb begins his Human Dignity by declaring that the
defense of rights at present requires little theoretical
articulation (pp. 1–2). Why, he asks, "make trouble by
defending human rights at length and make worse trouble
by claiming that human dignity is the basis, or part of
the basis, for human rights?" (p. 2). His answer is a little
surprising, especially in light of his admission that "actual
progress in realizing human rights . . . has often come
about without much need or use of theoretical assistance"
(p. 3). Kateb believes that opposition to human rights
from the radical Left, from utilitarians, and from virtue
ethicists—all of whom are on the side of the great majority
of the people—must be reckoned with. (The surprise
is that these objections have been thoroughly addressed
in 20-plus years of scholarship.)3 This project positions
him as indifferent to the politics of dignity and human
rights: there are by his own admission no practical
problems to be solved here, and he is willing to risk
making trouble for human rights in the pursuit of his
theoretical ambition.
Dignity, Kateb argues, provides an existential ground
for respect for human rights independent of the moral
grounds for respecting them. This is not to deny a close
relation to morality. The point is, rather, that "for many
people, and rightly, morality has to do solely or principally
with human suffering; but human dignity in its concern
with status and stature has to do with the proper
recognition of the identity of every human being and the
identity of the human species" (pp. 12–13). Morally,
rights reduce suffering; existentially, they recognize the
identity of all people as humans of equal status (p. 22).
Violations of human dignity have existential weight
independent of suffering itself, Kateb maintains, weight
that lies in the phenomenon of degradation (p. 16). To be
treated as not human is importantly different from
suffering (p. 17). So while the moral component in the
defense of rights (concern for suffering) is necessary, it is
not sufficient (p. 33). The existential component (concern
for dignity) adds two dimensions to this defense: First, it
highlights a particular attitude toward human beings
manifest in the infliction of suffering. Second, it emphasizes
the diminishment or deformation that people experience
when they endure harsh and needless suffering
(p. 36); this dehumanization often leads to rights violations
(p. 39). The author illustrates these points in an
enlightening discussion of Aldous Huxley's Brave New
World, a dystopia in which there is no immorality but in
which human dignity is nonetheless effaced (pp. 40 ff.).
Kateb mostly ignores the intriguing political implications
of his arguments, sticking with his theoretical
defense of human rights. How and how much his
arguments help remains unclear; they certainly do not
do much to answer the leftist critique (they are somewhat
more useful against the utilitarian and virtue-ethicist
challenges; see pp. 91 ff.). They do, however, make
trouble for proponents of economic and social rights, in
three ways.
First, Kateb rejects absolute Lockean ownership rights,
calling "[claims] to a completely unregulated and barely
taxed right of property" unacceptable (p. 52). He further
asserts that "the right of life can be the basis to circumscribe
the right of property, so as to help many stay alive
and in conditions that are not miserable, and not die
before their time from preventable causes" (p. 52).
Moreover, since property is not quite the same kind
of right as other rights, taxing it, "especially for relief
of the poor," represents no genuine conflict of rights
(p. 52). The author may regard these statements as
supportive of social and economic rights (though more
in reply to critics on the Right, it seems); in any case,
his Dickensian vocabulary and attitude toward "the
poor" have the unhelpful ring of nineteenth-century
charity appeals.
Second, Kateb argues that "the major human rights are
found most purely and economically stated not in recent
charters but in the US Constitution" (p. 28). This could
only conceivably be true if social and economic rights do
not count among the "major human rights," since the
Constitution is silent on them. He has a legitimate concern
about the statist implications of recent charters, which
permit the derogation of rights in times of national
emergency or in the public interest (p. 29). But defining
human rights—and, by implication, human dignity—as
unconnected to social and economic rights is unhelpful (to
say the least) to advocates and unlikely to blunt leftist
criticism of them as "bourgeois rights."
Third, in discussing claims of global distributive
justice, Kateb argues that a just society must defer the
great achievements that contribute to human stature and
instead focus resources on addressing poverty. Yet the
equation is different with respect to global poverty. Kateb
doubts that "the claims of stature in the form of great
achievements in the present can be sacrificed to the project
of redistributing as much wealth as possible to alleviate
global poverty." He sees "an important difference between
initiating and maintaining an exploitative policy or
condition . . . and neglecting to redress it when one does
not have direct responsibility for it" (p. 183). On
a charitable reading, this argument might permit the
redistribution of some wealth (if not as much as possible)
and, assuming an expansive, critical understanding of
direct responsibility, license significant global povertyreduction
efforts. Still, this position is even more insular
and radical than the social liberalism of theorists like John
Rawls and David Miller.4 Kateb effectively accepts global
poverty as the price we pay for great achievements. It is
unclear to me how he figures these sums—and how much
existential affirmation impoverished people find in monuments
or space stations.5 Again, Kateb is not doing global
antipoverty advocates any favors here; if anything, he is
fueling leftist critiques of human rights. That said, he
certainly delivers on his pledge to make trouble by
defending them.
Arguably, Kateb's principal aim is to give a defense of
human dignity based in human stature. His "justification"
of humanity is itself remarkable, and I present it in his
words: "[T]here is no species like humanity. It is capable of
doing not just a few remarkable things that no other
species can—the same is true of many other species—but
an indefinitely large number of remarkable things that no
other species can" (p. 113). "Only humanity can perform
the three indispensable functions: keep the record of
nature, understand nature, and appreciate it. The human
species, alone among species on earth, can perform these
services to nature on earth and beyond" (p. 114). Performing
these functions is the only thing that could justify
humanity in the eyes of an external judge, "which perceives
with the most complete understanding, cannot be selfinterested
(or not only so), and must devote itself to what is
real and not itself, and do so with the high intellectual and
aesthetic virtues of magnanimity, wonder, and gratitude"
(p. 113). This judge (upholding the highest human
standards) would appreciate that "nature, understood as
distinct from humanity, would be worse off without it
because humanity can do for nature in the comprehensive
sense—the earth and the universe—what must be
done, but cannot be done otherwise than by humanity"
(pp. 113–14). In case our stewardship of nature is not
enough, "it is also the case that . . . the human species can
receive another nonmoral justification—justification by
great achievements—that does not depend on the ability
to be selfless, as toward nature" (p. 115).
The problem with great achievements is that they are
premised upon treating "the great mass of people
poorly"—hence, the trade-off between justice and pyramids.
This is partly because "the innate ability of human
beings to contribute to great achievements appears to be
unequal" (p. 174). In fact, democratic culture, which
precludes violations of rights in the service of great
achievements, thereby "[jeopardizes] human stature"
(p. 175). Kateb conceptualizes this historical tension as
a conflict between dignity as status, which requires equal
treatment, and dignity as stature, which requires massive
social inequalities in the service of humanity's "great
achievements." His rueful conclusion is that while democrats
can ignore past violations of rights in celebrating
human accomplishments, today we must prioritize rights
(domestically, anyway). Kateb tries to console himself by
mustering some enthusiasm for the achievements of
American culture in the humanities (he frequently equates
"democratic" and "American" throughout the book), but
this is about the most he can manage: "films made for
smaller audiences are complex and subtle enough to
deserve a long life. I do not want to quarrel with that or
with the greatness of some jazz" (p. 203).
It is hard to assess this second argument, which is at
times brilliant, bombastic, creative, curmudgeonly, sublime,
self-indulgent, and, frankly, a little bizarre. I shall
make only two points. First, justifying human existence
by reference to our stewardship of nature, given current
trends, is a bit like foxes justifying their existence by
citing their protection of henhouses. Besides, by Kateb's
own admission, nature has no idea we are recording or
understanding or appreciating it; this justification reflects
the same species arrogance that, it seems to me, has put us
and our planet on an expressway to ecological calamity.
Second, it is telling that Kateb finds the political commitment
to equal human status insufficient to condemn the
evils of degradation and to justify human rights. His appeal
to human status and great achievements betrays profound
misgivings about democracy.
Rosen's Dignity also posits a close theoretical connection
between dignity and human rights. "Dignity is central
to modern human rights discourse," Rosen observes, "the
closest that we have to an internationally accepted
framework for the normative regulation of political life,
and it is embedded in numerous constitutions, international
conventions, and declarations" (pp. 1–2). Yet
despite this prominence, Rosen regards human rights as
"obviously deeply puzzling—almost everyone nowadays
professes commitment to them, yet few people would
claim that they had a good, principled account of what
they are and why we have them" (p. 54; my emphasis).
Unlike Kateb, Rosen is skeptical whether dignity can help
make the case for human rights; in the end, it is unclear
whether he thinks human rights make a case worth
helping. He certainly doubts that any of the three
important historical meanings of dignity—as status or
rank, as a "transcendental kernel" of incomparable moral
worth within all human beings, and as appropriate,
graceful comportment (pp. 11–38)—can provide a "good,
principled account" of human rights. Such an account has
three requirements. It must "explain and justify the claim
that all human beings share 'inviolable' dignity and that
they are 'free and equal' in that dignity"; "show that it
follows from this that they also have inviolable and
inalienable rights"; and, "identify what those rights [are]"
(p. 54).
Rosen suggests—in direct opposition to Jeremy
Waldron6—that status will not get us very far in this
respect. Although Kant's transcendental kernel looks more
promising, Rosen rejects it as well (on which more later).
The notion of dignified bearing, by contrast, he finds
more promising than it seems. Pursuing this prospect, he
develops a fourth interpretation, one that yields a right to
have one's dignity respected; while this is a very important
right, Rosen concludes, it cannot provide a foundation for
rights in general (pp. 55–62).
One of Rosen's main arguments is that none of the
received understandings of dignity can adequately ground
human rights. I have no particular quarrel with this
conclusion, but I find the question more revealing. His
search for philosophical foundations for human rights is
motivated by the worry that without them, human rights
are somehow incoherent or untenable. Human rights must
presumably lack adequate foundations at present; otherwise
there would be no point to the search. Yet by Rosen's own
admission, human rights are accepted by almost everyone;
are embedded in many constitutions, treaties, and deliberations;
and provide an international normative framework
for regulating politics—they are neither incoherent nor
untenable. So it is hard to see why, exactly, human rights
need philosophical foundations. Indeed, some proponents
of human rights regard their lack of clear philosophical
grounding as essential to their political viability. As Jacques
Maritain, a prominent member of the UNESCO committee
that drafted the Universal Declaration of Human
Rights, famously remarked: "Yes, we agree about the rights,
on the condition that no one ask us why."
Rosen apparently sees little connection between the
evident empirical success of human rights and their
normative status or grounding; in this respect, his study
reflects and perpetuates the division in the discipline. He
does consider at length some recent legal cases involving
dignity, among them the (in)famous Wackenheim
(dwarf-tossing) case and several framed by Germany's
constitutional recognition of dignity as a fundamental and
inviolable principle. Even here, however, Rosen's primary
interest is in the Kantian "transcendental kernel" view,
which he finds inadequate because it cannot explain or
justify the various rulings he considers. Questions about
the political fallout from these rulings or their effects on
the legitimacy of rights are ignored.
The argument is anyway rather odd. The German high
court might claim that it is relying on a Kantian kernel
view, but if its decisions seem inconsistent with or poorly
explained by this view, that is a problem for the court,
not the kernel—unless Rosen can provide some independent
basis for concluding that the judgments are correct
but their reasoning flawed. Otherwise, it could be that the
court has simply failed in properly interpreting the kernel
or adequately articulating its relevance in a particular case.
Rosen proposes that his own interpretation of dignity,
with its emphasis on "the value of the symbolic or expressive
aspects of our behavior toward others" (p. 126), makes
better sense of what the court is doing. This might be right,
and it might reflect what the court is really thinking, but it
leaves the kernel uncracked.
The last part of the book considers the question of
whether we owe respect to corpses and fetuses—or, more
generally, whether "we owe such duties [of respect] only to
persons" (p. 128). Rosen finds the "universally held belief
that we have a duty to treat dead bodies with respect"
deeply puzzling and important for moral philosophy. He
asks whether our duty to respect the dignity of humanity
has to benefit anyone and whether it is a duty owed to
anyone, concluding that it does not and is not (p. 140).
In answering these questions, he develops a duty-based
conception of morality based in respect for humanity,
a conception that he argues we should also attribute to
Kant: "[I]nstead of starting from the question what
maxims can be universalized without contradiction, it
would be better to understand Kant as asking first how we
have to act in order to treat our dignity (our inner kernel of
intrinsic value) with the proper respect" (p. 147).
I am in no position to say whether this would in fact be
a better interpretation of Kant. I do wonder, however,
whether this formulation—which boils down to something
worryingly like an injunction to treat our dignity with
dignity—really does much work. Rosen's other formulations
seem equally empty: For instance, dignity "requires
that we behave in ways that 'honor' or 'respect' humanity in
our person" (p. 153), a requirement that he concedes
provides "no clear test or set of criteria" for determining
appropriate action (p. 155). The criteria are apparently clear
enough to resolve the corpse question, however: "we might
have [a duty to respect humanity] toward things—corpses
or fetuses, for example—that are not themselves human and
will not benefit fromour behavior toward them," even if we
abandon Kant's transcendental perspective (p. 157). Rosen
avoids direct engagement with politics, sticking to Kant and
corpses and remaining coy about what respect for fetuses
entails. This is a shame, because the politics of abortion,
stem cells, torture, or other contentious examples of dignity
politics might enliven and fortify his rarefied discussion.
Instead, he cruises along on his philosophical fly-over,
ignoring the numerous off-ramps that would give him
access to political points of interests on the angry, congested
surface streets below.
One might expect the two self-avowedly constructivist
works under review here to handle the integration of
normative and empirical aspects of human rights more
deftly. After all, constructivists are broadly concerned
with the creation, diffusion, and effectiveness of norms
(and other things). Yet as Gregg's Human Rights as Social
Construction and Sikkink's The Justice Cascade show,
constructivist work often takes place on one side or the
other of this divide. The expectation of integration arises
from the casual association of constructivism with norms –
which can refer either to an empirical phenomenon in the
world or to the normativity (the "oughtness") of a concept.
In international relations, most constructivist work on
human rights falls, like Sikkink's, on the empirical side of
the divide, philosophical constructivism like Gregg's on
the normative side. The problematic features of this divide
are clear in these two otherwise engaging books.
Gregg rejects traditional philosophical approaches to
human rights as "theological" and "otherworldly" (p. 3)
and seeks a "social constructionist" alternative. I find most
of his critique of metaphysical conceptions of rights
insightful and persuasive. His chapter on the incompatibility
of global human rights with the nation-state as
presently conceived and configured is a must-read for all
serious students of human rights. That said, I have
reservations about his "human rights project" and about
the political fallout from it.
What Gregg calls social constructionism (constructivism)
entails that we regard the objects of our analysis as
products of human social interaction—that we treat the
"facts" in question as socially determined and variable. He
rejects Rawlsian-style philosophical construction, which
builds up conclusions from moral assumptions, as hopelessly
metaphysical, detached from social and political
reality. Gregg attempts to use social constructivism to
explain the universal validity and bindingness of human
rights—a bold attempt, given that social constructivism is
frequently aligned (if not allied) with cultural relativism.
He tries to square this circle through the idea of contingent
empirical universality, which essentially says that human
rights will become universally binding only if all communities
willingly embrace them. Their local acceptance
becomes a possible empirical basis for a future, though
contingent, universality. Gregg offers a vision of human
rights as noncoercive and nonimperialistic, based on locally
valid norms but potentially universal (pp. 135 ff.). On his
account, human rights inform a proper understanding of
dignity, rather than the other way round. He dismisses
conceptions of dignity invoked by philosophers, seeing
them as examples of the "theological approach to human
rights" that he hopes to overturn (p. 17). In his account,
"the traditional notion that some persons possess dignity
becomes the posttraditional idea that all persons possess it"
(p. 46). Dignity is thus situated within and shaped by the
"political, social, and legal categories of recognition in local
communities (and potentially across communities)"; rather
than reflecting some metaphysical essence, human dignity
becomes a political achievement (p. 46).
All of this is quite appealing and seems like just the
kind of integrated normative and empirical approach
I have been calling for. Unfortunately, things go wonky
in the follow-through. Gregg seems mainly interested in
providing an account of human rights that he thinks
could or should command future consensus, rather than
in studying local understandings of rights or exploring
possible terms of their translation and negotiation.
Instead of investigating the local bases for the acceptability
of rights and seeking similarities and potential
bridges among them, he offers his own eclectic grounding,
drawing on neurobiology and a doctrine of assertive
selfhood (pp. 91–99) to construct a highly idealized
account. He even explains how activists might develop
"indigenous" interpretations of rights as he understands
them (p. 141). In the end, this is less a book about human
rights as a social construction than it is about how to
construct human rights along the lines Gregg thinks or
hopes will attract universal support—a philosophical construct
with assembly instructions.
In a further irony, Gregg's social constructivism yields
an account with no politics in it: He describes the work
that politics might do in advancing the ideal human rights
project but pays no attention to the present politics
surrounding human rights or to how politics might
impede the human rights project (without almost any
consideration of politics, I should say). Apparently to
advance his account's acceptability, Gregg makes some
puzzling and worrisome concessions on democracy and
on women's rights.7 Briefly, Gregg disputes Jürgen
Habermas's claims about the co-originality of democracy
and human rights and questions Jack Donnelly's assertions
about democracy's importance for the effective realization
of human rights (pp. 97–98). The author wants to insist
that human rights can emerge even in nondemocratic
societies, and so they can, but he confuses the conditions
of rights' emergence with the requirements for their
maintenance, wrongly concluding that human rights
neither need nor require democracy. On women's rights,
Gregg condones women's inequality and subordination
so long as the women "embrace" it.8 He argues that
"a community that discriminates against some of its
members in ways that do not constitute persecution, and
in ways accepted by those discriminated against,
should be respected in its choice and organization"
(p. 22). If "respect" here simply rules out invoking
women's rights as a pretext for military adventurism,
fine. Gregg, however, wants to "rule in" baselines for
women's rights that fall well short of social, political, or
economic equality and that license women's subordination
and relegation to the private sphere.9
The broader question is why an ideal account like
Gregg's should sacrifice anything on the altar of acceptability.
He insists that his approach enables a critical stance
on our culture and on others, yet I cannot see how these
concessions are consistent with such a stance or how they
can be reconciled with the conceptual architecture of his
theory. (How, for instance, does women's subordination
square with the assertive selfhood at the foundation of
human rights?) If, as Gregg avows, "[h]uman rights can be
legitimate for any community that comes to embrace
them" (p. 158), why presume that democracy and
women's rights are somehow especially problematic?
Greater attention to the political claims and struggles of
feminists and of opponents of authoritarianism might have
helped him avoid these difficulties.
Sikkink provides a very different constructivist reading
of human rights. She recounts the emergence of the
"dramatic new trend in world politics toward holding
individual state officials, including heads of state, criminally
accountable for human rights violations" (p. 5). The justice
cascade does not indicate that perfect justice is being done
or will be done, Sikkink stresses, and it does not mean that
most perpetrators of human rights violations are being held
criminally accountable: "Rather, justice cascade means that
there has been a shift in the legitimacy of the norm of
individual criminal accountability for human rights violations
and an increase in criminal prosecutions on behalf of
that norm. The term captures how the idea started as a small
stream, but later caught on suddenly, sweeping along many
actors" (p. 5). She recognizes that this cascade is hardly
inevitable, and the book is her attempt to determine how
and why it developed.
Unlike the other titles under review here, The Justice
Cascade is primarily an empirical study. Sikkink's vast
knowledge and experience and her distinctive narrative
voice make the book both accessible and deeply personal,
and it is full of insights and largely persuasive. It is also
somewhat unusual among empirical studies in taking
a clear ethical stance on its subject matter (in advocating
prosecutions). The author notes that in the view of most
(empirical) political scientists, doing so compromises one's
objectivity and undermines the credibility of one's
research. For a long time, she writes, she thought that
addressing ethical questions would require her to "[s]top
being a researcher and become a moral philosopher"
(p.229; I assume she meant to say something more like
"give up on my own present research agenda"). Now she
has "identified an approach that [lets her] combine
attention to both normative issues and empirical research
findings" (p. 229). This approach is consequentialism,
which she defines as the view that "knowledge of the
expected consequences is important for helping to make
hard ethical choices" (p. 230). Prosecutions are good if
they promote democracy and stability.
It is not clear whether this consequentialism explains
the spread of norms of accountability, however. Sikkink
understands norms as standards of appropriate behavior
that carry a special quality of "oughtness"—which, I argue
later, cannot be explained on consequentialist grounds.
Norms are intersubjective, and often only a small number
of people share them; they can spread rapidly, or cascade,
when norm entrepreneurs push for their widespread
recognition (p. 11). The justice cascade refers only to
individual legal accountability for human rights violations,
though this norm is nested within wider global movements:
the "human rights revolution" and the related push for
transitional justice (p. 16) made possible by the third wave
of democratization and the end of the Cold War (p. 24).
Three streams feed this cascade: domestic and foreign
prosecutions of human rights violations, international
prosecutions, and the "streambed of hard law," made up
of international human rights conventions (p. 97).10 The
book traces the origins of each stream, carrying us from
Greece and Portugal, whence domestic prosecutions did
not diffuse, to Argentina and Latin America, whence they
did; from Nuremberg and Tokyo to the ad hoc tribunals
for Yugoslavia and Rwanda and the Pinochet case; and
from the Genocide Conventions and Geneva accords of
the late 1940s through the conventions against Apartheid
and Torture in the 1980s. These streams have merged into
what Sikkink describes as a decentralized, interactive
system of global accountability whose most notable
features are the doctrine of universal jurisdiction and the
creation, via the Rome Statute of 1998, of the International
Criminal Court (97 ff.).
The book tackles three big questions related to this
cascade: The first concerns the origins of new ideas
regarding individual criminal accountability for human
rights violations; the second concerns how and why some
ideas and practices become norms and diffuse; the third
concerns the effects of human rights prosecutions (p. 230).
With respect to the third question, Sikkink challenges
the skepticism about human rights trials that pervades the
conventional wisdom and scholarly literature on political
transitions. This skeptical view fears that the threat of
prosecution spurs the bad guys to entrench themselves
ever more deeply in power and inculcates damaging
political instability (pp. 130–60). She finds little evidence
to support these anxieties; in fact, her own data show
(though not definitively) that human rights trials are
beneficial for democracy, contribute to the rule of law,
and promote political stability—this is the consequentialist
case for trials (pp. 229 ff.).
With respect to the second big question, Sikkink argues
that to explain why change happens, we need to pay
attention to "how agents—that is, real people and
organizations—promote new ideas and practices" and how,
over time, these can create a "new understanding of the ways
in which states ought to behave, and new understandings
of the national interests of states (p. 237). This account,
which she describes as "agentic constructivism" (p. 237),
accommodates top-down diffusion and bottom-up and
horizontal diffusion, both of which figure into the justice
cascade (though the book focuses on the former).
Sikkink's answer to the first big question is that systemic
shocks and changes in the domestic balance of power
account for the origins of new ideas about individual
criminal accountability (p. 245). Curiously, this reads
more like a further explanation of norm diffusion than like
an account of the origins or appeal of new ideas. I think
that the cascade metaphor is implicated here: One can
trace the streams that feed a cascade back to their sources,
noting their particular paths, but this does not explain why
they flow in the first place; to know that, we have to get
under the surface. Put differently, explaining the diffusion
of norms is not an empirical question of tracking their
proliferation; it also has to do with the nature and appeal of
the norms themselves—with their "oughtness." On the
author's account, this cannot be a function of their
consequences; we can only know these after the norms
diffuse.
Sikkink acknowledges this difficulty indirectly, at the
book's end, when she asks "why certain ideas at certain
moments in certain places, resonate, grab attention, and
become possible"—a problem she calls the "single most
difficult" one raised in her analysis (p. 261). This, finally, is
a direct engagement with the first big question. Sikkink
argues that issues involving bodily harm are the most likely
to fuel "transnational activist campaigns because such
wrongs resonate across cultures and societies. The crimes
for which individual criminal accountability is sought
involve exactly this subset of violent bodily harms"
(p. 255), owing to the obvious injustice they involve.
She also makes frequent reference to the "intrinsic power"
of new norms and to the "inherently appealing" ideas that
animate prosecutions (p. 231). She claims to find nothing
puzzling in the intrinsic appeal of the human rights idea—
the idea that "almost everyone would prefer to be alive
than dead, free than imprisoned, secure than tortured, fed
than hungry. Core human rights norms have resonated so
profoundly in the world in part because of this intrinsic
appeal" (pp. 261–62). She complains that "while psychologists
can speak of . . . a 'moral instinct,' this is still heresy"
for political scientists (p. 261).
There are two problems here. First, this kind of
bootstrapping might be enough to ground protections
against murder, torture, and arbitrary imprisonment, but
it seems radically insufficient in the case of more controversial
rights. What if "almost everyone" does not agree
about the importance of press freedom or reproductive
rights or the dignity of lesbian, gay, bisexual, transgender,
and queer people or the right to health care or an adequate
standard of living? Second, if Sikkink really thinks that
human rights are matters of moral or psychological fact,
why does she find it so hard to account for their diffusion?
Why does she find it "surprising to watch how uniformly
human beings—even those embedded in cultural scenarios
that tell them otherwise—believe that they are entitled
to something better" (p. 262) when they experience
human rights abuses? Indeed, if human rights are
inherently powerful, intrinsically appealing, moral or
psychological facts, why are they not ubiquitous, selfexecuting?
Sikkink's answer is power (p. 235). This is
plausible enough, but it calls for a much more fully
developed moral psychology to explain why the intrinsic
appeal of human rights and the moral instinct is absent or
deficient or overwhelmed in some individuals, why
human rights norms (rather than some other ones) prove
useful and appealing as tools to counteract power, and how
persuasion and diffusion work in the case of "non-obvious"
rights. Such an account, if it is available, spans the normative
and the empirical.
The final two books I consider make the turn toward
an integrated account of human rights, though both have
only begun down this road. In Dignity in Adversity,
Benhabib takes up, like Gregg, questions about the validity
of universal human rights norms in local settings. She
conceptualizes the problem primarily as one of reconciling
cosmopolitan norms with territorially demarcated, democratic
popular sovereignty, an approach that raises many
questions. For instance, is a demos of the kind she imagines
necessary or justifiable on democratic grounds? Is this
binary framework of the universal and particular adequate
for making sense of transnational and supranational legal
and policy issues—those that involve or cut across many
demoi, not all of which share the same presuppositions
about the validity of cosmopolitan norms? Is this
depiction of the global political economy and world
system conceptually and empirically rich enough to
provide significant analytic leverage on the problem of
social and economic emancipation that Benhabib
believes is central to the struggle for human dignity
(pp. 192 ff.)?11
Dignity's marquee status notwithstanding, it makes only
rare appearances in the book. Nonetheless, there is a conception
of human dignity at work throughout these essays
in the idea of communicative freedom, which Benhabib
anchors in an enlarged understanding of Hannah Arendt's
"right to have rights." Benhabib argues that a political
justification of human rights presupposes what she calls
justificatory universalism, which requires "the acknowledgement
of the communicative freedom of the other, that is, of
the right of the other to accept as legitimate only those
norms as rules of action of whose validity she has been
convinced with reasons" (p. 11). This acknowledgment
rests in turn on moral universalism, which is "equal respect
for the other as a being capable of communicative freedom"—
the right to have rights (p. 11).
Benhabib insists that this moral universalism does not
determine a specific list of rights "beyond the protection
of the communicative freedom of the person" (p. 11).
That protection, however, entails quite a lot. It would, she
argues (p. 127), "minimally" include
the rights to life, liberty (including to freedom from slavery,
serfdom, forced occupation, as well as protecting against sexual
violence and sexual slavery); the right to some form of personal
property; equal freedom of thought (including religion), expression,
association, representation, and the right to self-government.
Furthermore, liberty requires provisions for the "equal value
of liberty" (Rawls), through the guarantee of some bundle of
socio-economic goods, including adequate provisions of basic
nourishment, shelter, and education.
In accepting Habermas's discourse principle (p. 129),
Benhabib envisions a "veto" for all citizens and residents that
allows them to "demand that the conversation of justification
resume and not be terminated unless their objections
have been voiced, listened to, and resolved upon" (p. 159).
Benhabib argues that her account avoids metaphysical
entanglements because it is a "presuppositional" analysis of
rights. What this means is basically that my recognition of
your right to have rights is a precondition of (presupposes)
your being able to contest and accept my rights in the first
place. I have my doubts whether this argument holds up,
but I leave those worries aside here. The much more
interesting parts of the book, I think, are those in which the
author discusses how rights create a normative universe of
meaning. She argues that the profusion of human rights law
and treaties and the uptake of human rights norms by actors
outside formal legal and legislative arenas facilitate new
forms of public claimsmaking and anticipate "new forms of
justice to come" (pp. 15, 125). Benhabib calls this the
"jurisgenerative" potential of rights.12
"Democratic iteration" is the process through which this
tension between the unity and diversity of human rights is
worked out—that is, in which the relation between the
moral core and legal form of rights is articulated and
negotiated (p. 73). Through public iterations of will and
opinion formation, rights are appropriated and contextualized
by democratic communities (pp. 73–75); rights acquire
legitimacy—though not validity—through the exercise of
democratic popular sovereignty (p. 118), which exercise
itself presupposes the communicative freedom that rights
both enable and express (p. 74).
The contrast with Gregg's approach is illuminating.
He attempts to erase the tension between universal and
particular by defining the universal as the sum of the
particular: human rights attain universal validity only
when they command local validity everywhere. Benhabib,
we might say, seeks to inhabit rather than to resolve the
tension, to work out how universal and particular inform
each other in processes of negotiating rights. This analysis
is most penetrating and illuminating when Benhabib
attends to the generative power of cosmopolitan norms
and focuses on the potential for rights- and justiceenhancing
iterations (as well as pathological ones) in the
give-and-take of democratic politics. This "cosmopolitanism
without illusions" (p. 16) highlights how rights and
identity get negotiated and renegotiated through political
contestation and how this process can bestow legitimacy
on rights in particular contexts—as illustrated in an
illuminating discussion of debates surrounding secularism
and the public wearing of headscarves in France, Germany,
and Turkey (Chapter 9).
Critics have questioned whether democratic iteration is
a normative or an empirical concept; Benhabib's reply—
that it has both empirical and normative components,
"as all 'legitimacy' concepts since Max Weber attest to"
(p. 151)—leaves unclear whether she understands the
concept to be descriptive. She often writes as if it were—
for instance, in characterizing democratic iterations as
"[involving] complex processes of public argument,
deliberation, and exchange through which universalist
rights claims are contested and contextualized, invoked
and revoked, posited and positioned throughout legal and
political institutions, as well as in the associations of civil
society" (p. 16; see also p. 182). At other times, however,
democratic iteration is deployed as "a normative concept
with empirical import" that allows us to judge contentious
discourses according to normative criteria deriving their
justification from communicative ethics (p. 16). So, while
democratic iteration refers to the processes of collective
self-appropriation of cosmopolitan norms through which
rights lose their parochialism, it also provides the critical
standard for assessing whether genuinely democratic
iterations are occurring: "democratic iterations themselves
presuppose some standards of rights [those entailed by
communicative freedom]" (p. 129).
As this discussion indicates, there is an unresolved
tension in Benhabib's account between democratic iteration
as a normatively laden empirical description of
processes of contestation and claims making around rights
and as a critical normative standard for evaluating those
processes and their outcomes. On the one hand, democratic
iterations are supposed to describe processes through
which universal or cosmopolitan moral norms are collectively
self-appropriated (legitimated) by communities
through democratic discourse and contestation. On the
other, the rigorous standard for assessing a community's
process—for determining whether the democratic iterations
are genuine or legitimate—is precisely the norms
whose legitimacy for that community is supposedly established
through this iterative process itself (cf. 130).
Democratic iteration is a powerful and very promising
concept, and Benhabib's discussions of real-world struggles
over the meaning of rights are often deeply insightful.
Yet I worry that in conflating the descriptive and the
critical in this way, her cosmopolitanism remains under
the spell of an illusion after all: that what is actually
happening in real disputes over rights is what discourse
ethics tells us ought to be happening in idealized discourses
about rights. Put differently, Benhabib's cosmopolitanism
imagines that discourse ethics dissolves the tension
between foundationalist approaches to rights and political
ones; Karen Zivi labors under no such illusions in Making
Rights Claims. In this wonderful book, she argues—against
the pervasive foundationalist tendency in the literature—
that instead of worrying about what rights are and what
rights people have, scholars should focus on what rights do
(p. 9). That is, Zivi proposes to investigate and theorize the
process or activity of rights claiming itself in seeking to
grasp more firmly the normative and political significance
of rights. In this respect, her approach is similar to
Benhabib's: She views the tension between rights and
democracy not as a problem to solve but, rather, as
a relationship to understand anew (p. 7).
In seeking to apprehend rights claiming as an activity,
what Zivi calls performativity, she "[draws] on the speech act
theory of J. L. Austin and the writings of some of his
contemporary interlocutors," including Jacques Derrida,
Stanley Cavell, and Judith Butler (p. 14). The key insight
she takes from this conversation is that speaking, writing,
and other communications never merely reflect our world
but always also (re)produce it (p. 14). Performativity is
(necessarily) conventional, insofar as what we mean in
making an utterance is comprehensible only within a context
or framework of conventions in which it is performed.
Yet performativity can also be unconventional: What we
mean by making an utterance can call into question or
otherwise subvert existing conventions (pp. 16–19). These
unconventional performances, Zivi argues, are valuable for
democracy because they cannot be captured by any set of
rules, they open up rather than foreclose political possibilities
(p. 19). A performative understanding of rights claiming
undermines the familiar view of rights as trumps, a view
she finds pervasive and problematic.13 Seeing rights as
trumpsmeans treating themas if they create sure winners or
guarantee particular outcomes. This perspective inevitably
disappoints, as in fact rights often fail to deliver the hopedfor
results. Politics is contingent and conflictual, and
outcomes are never certain (pp. 36–42). Foundationalism
limits our understanding of what people do and mean by
claiming rights.
We can see this, Zivi argues, by recalling that political
activity often aims to be persuasive (pp. 46–47). On the
performative view, rights claiming becomes an intersubjective
practice of persuasion, and as such it relies on both
reason and emotion (pp. 118–19). As we engage with others
in politics and persuasion, she maintains, we share our
perspectives on the world, taking into consideration as we
do so the views and feelings of others in our community.
In the author's gloss on John Stuart Mill, it is "through
this contestation and engagement with differences of
perspective that one comes to be fully human" (p. 59).
The meaning and power of rights derive from the
engagement and openness that rights claiming entail
rather than from any outcomes they deliver (p. 67);
this process is valuable for democracy not because of
the results it guarantees but because of the practice that
it engenders (p. 121).
This conceptualization of rights claiming also undermines
a familiar critique of rights focused on their
pernicious effects—their disciplinary power, their reproduction
of the status quo, their foreclosure of politics.
These critiques are less wrong than incomplete on Zivi's
view; they miss the unpredictability and the transformative
potential of rights claiming. Invoking the discourse of
rights does replicate disciplinary power and reproduce
existing rules and conventions, but she also highlights
the unpredictability of rights and their transformative
potential. Despite their conventionality, rights can be used
to open up spaces, to introduce new perspectives, and to
challenge traditional norms (pp. 78–81). Rights claiming
is a kind of permanent provocation (p. 112).
In Chapters 4 and 5 of Making Rights Claims, Zivi
discuss
Human Rights as Social Construction
---
Human Rights as Social Construction
Cambridge University Press, 2012 (re-printed twice); paperback edition, 2013
http://www.upbo.org/catalogue/catalogue.asp?isbn=9781107015937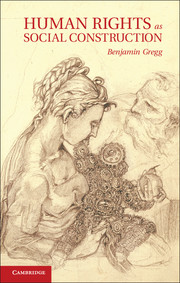 Guest Professorship 2014
---
Philosophische Grundlagen der Menschenrechte bei Kant und Rawls
Guest Professorship 2015
---
Leopold-Franzens-Universität Innsbruck ▪ Sommermester 2015
Zur langfristigen Evolution
von Ungleichheit und der Konzentration von Wohlstand
LV Nr. 408202 ▪ Modul "Strukturen und Wandel der Gegenwartsgellschaft 2" ▪ 5 ECTS
Blockveranstaltung im Bachelorprogramm, in deutscher Sprache ▪ 20., 21., 27., 28. März,
Freitags jeweils 9-16 Uhr ▪ Samstags jeweils 9-14 Uhr
Fr 03.20.2015 09.00-16.00 SR 6
Sa 03.21.2015 09.00-14.00 SR 6
Fr 03.27.2015 09.00-16.00 SR 9
Sa 03.28.2015 09.00-14.00 SR 4
Prof. Dr. Benjamin Gregg (Benjamin.Gregg@uibk.ac.at) ▪ University of Texas, Department of Government, 1 University Station A-1800, Austin, Texas 78712 USA
KOMMENTAR ▪Ziel der Veranstaltung ist es, Strukturen und Wandel des politisch-ökonomischen Bereiches der Gegenwartsgesellschaft im Lichte der Gesellschaftstheorie von Thomas Piketty zu beleuchten. Dabei werden mehere Piketty-Kritiker aus diversen gesellschaftstheoretischen Richtungen mitthematisiert. Das Seminar behandelt Daten aus 20 Ländern, mit Rückgriffen bis ins 18. Jahrhundert, um die entscheidenden ökonomischen und sozialen Muster freizulegen, um die dynamischen Faktoren für die Akkumulation und Distribution von Kapital zu verstehen. Sind Gewinne aus Kapital höher als die Wachstumsraten, und somit der Haupttreiber der Ungleichheit heute? Inweifern ist der soziale Friede dadurch gefährdet? Inwiefern sind die Werte der Demokratie daduch unterminiert? Wie extrem sind die verschiedenen Formen von Ungleichheit heute? Droht die Ungleichheit von heute noch extremer Formen von Ungleichheit morgen hervorzubringen?
LITERATUR ▪(a) Thomas Piketty, Das Kapital im 21. Jahrhundert (französische Originalfassung oder die deutsche bzw. englische Übersetzung) ▪ (b) Mehere kritischen Stellungnahmen zu Piketty liegen als pdf-Dateien vor
HINWEIS ZUR VERANSTALTUNG ▪Verpflichtend ist die Teilnahme an allen vier Seminartagen.
LEISTUNGSNACHWEIS ▪Für einen benoteten Schein: ein textanalytischer Aufsatz, der eine bestimmte Fragestellung kritisch und eingehend diskutiert, von 8 bis 10 Seiten in deutscher oder englischer Sprache. Abgabetermin ist der 27. April 2015 per elektronische Zusendung (Email-Anhang).
Profile Pages
---
External Links
---