Liberal Arts Building News & Updates

Students, faculty and visitors will soon cross this sky bridge from the Student Activity Center to the new Liberal Arts Building, where workers are putting finishing touches on labs, classrooms and other gathering spaces that maximize student/faculty collaboration while minimizing environmental impacts. Located on the East Mall near San Jacinto Street, the building is designed to meet LEED gold standards for sustainability.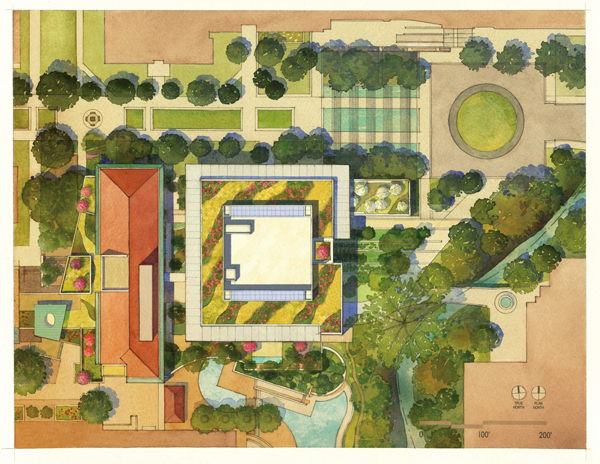 The University of Texas at Austin is known for its landmark buildings — The Tower, The Texas Union, Battle Hall. Soon to join these campus icons: the new College of Liberal Arts building, nearing completion on the East Mall.
Not only is the building the newest landmark for the campus, it is also a landmark for innovative funding and cost-effective planning and design.
"This is the first time a college has funded its own building," says Kathleen Aronson, the college's assistant dean for development, who notes that the project marks a number of "firsts" for the college and university. "We are the first college to take out a loan for a building and to identify college funds to finance the loan. It is a model for other colleges to follow."
It is not unlike a homeowner taking out a 30-year mortgage, says Jamie Southerland, the college's assistant dean for business affairs, who adds that the college could  not afford to wait for state funding that is allocated to the university's list of capital improvement projects.
---


More than four decades ago, The University of Texas at Austin and its Naval ROTC program gave James Mulva the education, discipline and support that would help shape his future.
Today, he is giving back, helping to shape the future of the university, the College of Liberal Arts and, in particular, ROTC.
Mulva, chairman and chief executive officer of ConocoPhillips, and his wife Miriam have donated $15 million to the College of Liberal Arts to construct a new building on the East Mall. The six-story building will include an entire floor for the university's Naval, Army and Air Force ROTC units, which are part of the college.
Read the full article...
---


From the Dean:
Posted: 14 Apr 2010
Dear friends,
At long last, the College of Liberal Arts is preparing to have a space of our own on campus. I invite you to be part of it.
We plan to begin construction of the state-of-the-art (and eco-friendly) building on the east mall in 2011. By the time it's done in 2013, it will have more than 30 modern classrooms and a center with study lounges and meeting rooms for Liberal Arts students who, until now, have had no central place on campus to study, meet and work together.
The building will be home to as many as a dozen departments, centers and programs and will have office and lab space for 250 faculty. For some departments, the new building will replace space that's woefully small, inadequate or out-of-date — and that has discouraged some potential students and professors from coming to Austin. The new building will also allow colleagues from related disciplines to come together under one roof for the first time. It will foster the type of collaboration, collegiality and intellectual give-and-take that's vital to any great university.
Even as we deal with short-term challenges at The University of Texas at Austin, the building will help guarantee that the College of Liberal Arts' success continues in the long term and that we have the talent and vision needed to thrive for decades to come.
I encourage you to explore these Web pages which include the latest updates and offer ways you can help make this a reality.
Best,
Randy L. Diehl
Dean, College of Liberal Arts
---


Taking On the Space Crunch
From the Fall 2009 edition of Life & Letters
"New Liberal Arts building will bring together students and faculty"
When College of Liberal Arts senior Mykel Estes needs a place to hang out and study between classes, he often heads to the atrium in the Red McCombs School of Business.
"As a Liberal Arts student, I have to use the business school's space because we don't have our own," says Estes.
That could change for future students by 2013 as the College of Liberal Arts moves ahead with plans for a new building on the east mall. The building will house up to a dozen college departments and programs, allowing students and faculty from different departments to share space for the first time in decades.
And by using some recycled materials, installing high-efficiency energy systems and including low-flow water fixtures, designers hope the building will receive silver LEED status from the U.S. Green Building Council.