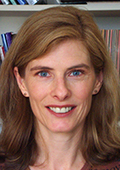 Professor
, Department of Curriculum and Instruction, College of Education
Phone:
+1 512 232 9688, +1 512 471 3747
Email:
empson@austin.utexas.edu
Susan B. Empson is an Associate Professor of Science and Mathematics Education. She studies the teaching and learning of fractions and other multiplicative structures and teacher-student interactions in elementary and middle-school classrooms. Her current work focuses on the relationship between teaching practices and student achievement gaps and on how teachers help struggling students in particular learn mathematics with understanding and confidence. Her research has been supported by the National Science Foundation and the Spencer Foundation, and published in such journals as Cognition and Instruction, Journal for Research in Mathematics Education, Teaching Children Mathematics, and Journal of Mathematics Teacher Education. She earned her PhD in Mathematics Education at the University of Wisconsin-Madison and has worked on the Cognitively Guided Instruction project. Before going back to graduate school, she was a high school mathematics teacher in inner city New York at A. Philip Randolph High School, and in the Peace Corps, in Morocco.
Elementary children's mathematics thinking; sociocognitive theories of learning, classroom processes; teacher development